Two Ways to Race a Triathlon with the Revo Via
Flaér ambassador Nate Deck got his Triathlon season started at the Northeast Park Duathlon in Gibsonville, NC last weekend. It was a great start to the season for Nate as he won his Age Group Category and even better shaved 3 mins off his time from last year!
Nate said,
"I'm glad to have won my age group, but I'm more excited about the 3 minute improvement over last year! I've been pushing to get the most out of my body over the winter, and the Revo Via has helped get the most out of my equipment. I always try to make sure the fitness gains aren't lost somewhere between the pedals and the road."
Nate has written a Guide below on how to use a Revo Via in a Transition Phase of a Triathlon.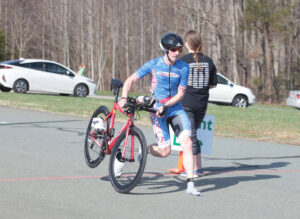 Transition. No one likes it. Most people recoil at the thought of it. But if you're a triathlete, you better embrace it!
That's right! The easiest way to shave a few seconds off your race time is to refine your transitions. Sure, there are high tech ways of gaining time like buying an ergo helmet or some deep aero wheels. You could even save up to 12 watts with a Revo Via! In a race as long as an Ironman that can really add up!
But how do you deal with a unit like the Revo Via in transition? There are 2 ways you could go about running your Revo Via in a triathlon. Either you can turn it on in transition (or when you first get out of T1) or you can leave it on and let the auto off feature have your back! I've tried both, so here are my thoughts on it.
Using the Auto Off
You may not have realized, but your Revo Via unit is actually equipped with a 3-axis accelerometer. This allows the unit to know when it is in motion or when it is at rest. If it senses you are not really riding your bike, say… at a coffee shop or when your bike is racked in T1, then it stops dispensing fluid. This saves your fluid from going to waste all over the ground!
This means that you can turn the unit on for your warm up or as you are setting up your transition area, and then leave it running while you complete the swim leg of the race. During that time, it will go to sleep, and when you exit T1 and get on your bike, the unit will wake back up and begin dispensing the Via Fluid keeping your drivetrain running smoothly!
Turning it on in transition
This next option is best for the longest of distances. The Revo Via can hold enough fluid to last 7.5 hours on the highest setting (.03ml every 30 seconds). If you are racing a wet and nasty iron distance race, you don't want the unit on any longer than necessary to conserve fluid.
For the longer races I make sure my unit it full and my chain is coated with the fluid when I set up in transition. I then power the unit down as I go about the rest of my warm up and the start of the race. Coming out of T1 I simply power the unit on and I am good to go.
I tend to wait until I am riding and reach down to turn it on once I get my shoes on. Since I have the unit mounted on my seat tube bottle cage I can reach it fairly easily while riding. Depending on where you have your unit mounted, this may not work for you. Instead you may have to turn it on while your bike is still racked in transition. This may cost you a few seconds in T1, but the time saved from a smooth running drivetrain over the course of an iron distance bike leg more than makes up for it!
One thing to note here is that in the fog of T1 you don't want to forget to turn the unit on. One race I did this and only remembered the unit when I was 5k out from T2!
There you have it! With the Revo Via, you have options! Both save you time on the bike leg, and with a little practice you will have a transition that is as smooth as your drivetrain!