Rory's Revo Via Propels him to Victory at Snowdonia Etape Eryri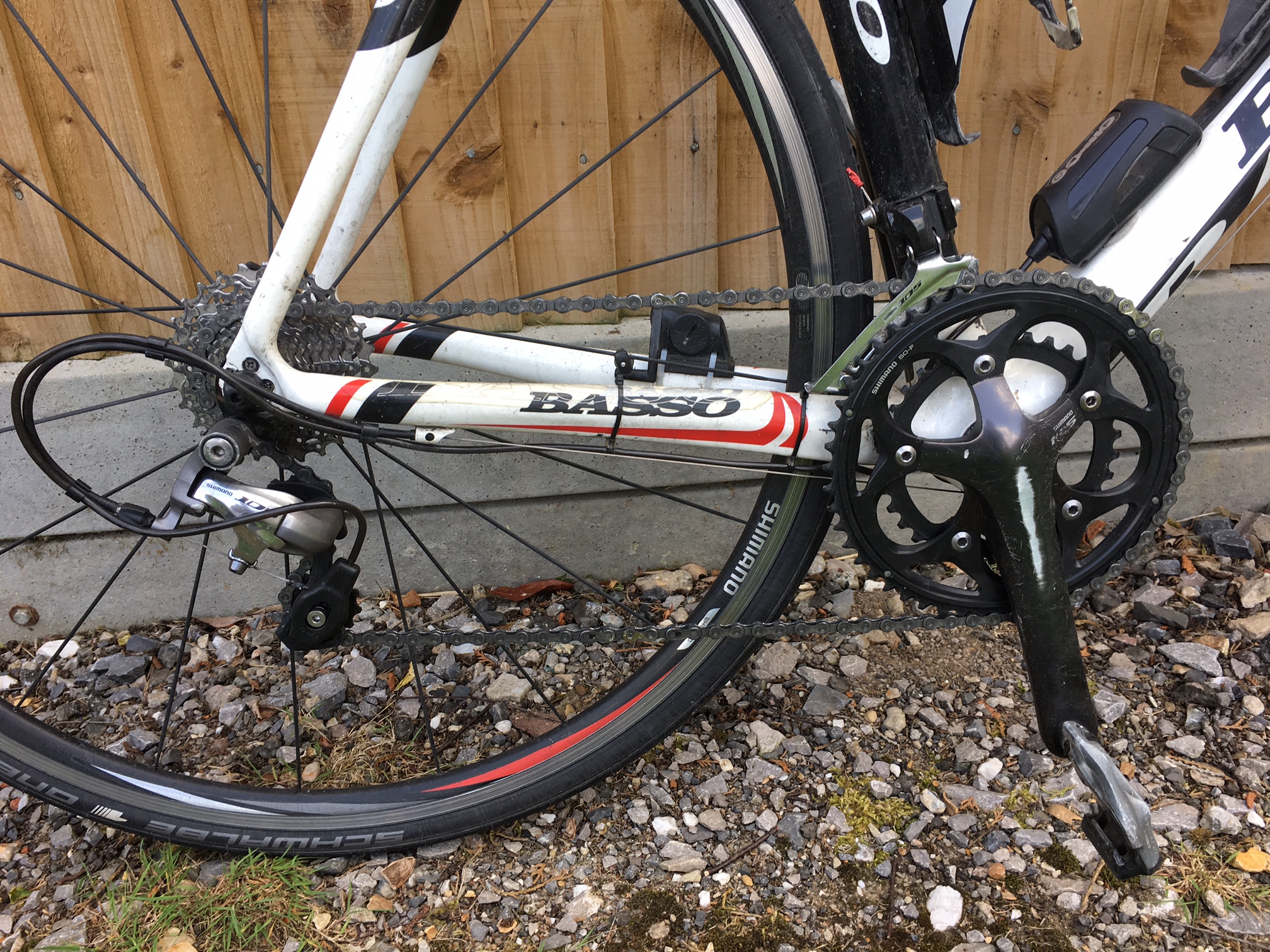 Flaér rider Rory West took on the longest one day sportive in Europe – the Snowdonia Etape Eryri. Ready to take on the most epic ride on the UK calendar, Rory was equipped with his secret weapon, a Revo Via, chain performance system.
Rory's Revo Via equipped Basso bike. After the race – that's a pretty clean transmission after 213miles!
A tough day in the saddle got even tougher with high winds of 40+mph recorded. The conditions forced a slight course change meaning the overall distance covered was reduced to a mere 213 miles rather than the planned 222!
The demanding route saw the riders tackle the 75mile Canol route first followed by three laps of the 46 mile Bach route. All with over 4,000 meters of climbing!
Rory told us,
"It was an early start of 3:45 am and the roads were wet. It stayed dry until the bottom of Pen-y-Pass and for the next few hours it rained. One of the roads was flooded and the rain was stinging as it was hitting me in the face at 40mph. During the second lap the weather just got worse and I became cold this was a real low point for me. On the plus side my bike was working well despite the conditions.
After 213miles Rory's chain and cassette were still working at peak performance with only a small amount of dirt build up – a quick blast with some water and his transmission was back to new in seconds!
As the riders took on the final lap, the lead group of four summoned the remains of their depleted energy reserves to battle it out for the victory. Rory talked us through his winning move,
"On the last lap all I could think about was the weather on Pen-y-Pass. No rain so that was a good thing but the wind was still blowing strong. It was good to be with three other strong riders but we were all starting to hurt by this point. So it was time to get my head in the right place and have a couple of digs on the climbs. Also to test my legs and everyone else's as well. Then it was one down and only two riders left with me. At 15 miles out it was time to make an all-out attack.  I knew this was going to hurt. But I soon had a tail wind and had a slight gap between the other riders so I went for it."
Part tactical masterstroke, part guts and glory, Rory held on and secured a mightily impressive victory as the first rider home in this brutal event. There is no doubt he was helped by the extra power he was able to transfer to his wheel, thanks to his on board chain performance system. With the huge number of miles covered and many hours spent in the saddle, we can safely assume that his competitor's drivetrains would have been experiencing significant losses in comparison.
Rory reflected on the impact of the Revo Via,
"All through this ride I was looking at the other rider's rear cassette and how dirty they became. Thankfully this was not an issue for me and I was really impressed with the Flaér Revo Via drivetrain device."
Congratulations to Rory on completing and winning this gruelling challenge.